STAIRCLIMBER FOR FAST AND SAFE TRANSPORT
Moving and shipping has never been easier. The goods stairclimber is a tool thanks to which we can safely and conveniently transport heavy and bulky loads up to 500 kg.
The parts of the device are interchangeable, and the modular structure allows for folding and adapting to your own requirements. Safety of use is guaranteed by the battery discharge and overload indicator.
The stairclimber allows you to carry items such as: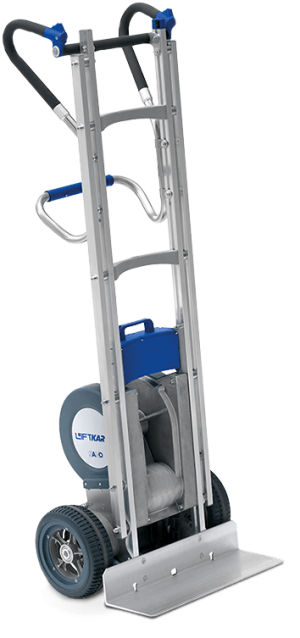 Stairclimber LIFTKAR SANO SAL HD 360 FOLD DOLLY
Stairclimber LIFTKAR SANO SAL HD 360 FOLD DOLLY is an electric device with two modes of lifting. The first one is used for single steps, and the second one is for the continuity of the stairs. It works perfectly both inside and outside buildings. After disengaging and unfolding the stands, the trolley can be used for work on a level surface. The adjustment of the handle allows you to balance lower objects of medium weight, and the system of folding supports significantly extends the functions of this device.